Recently while shopping lingerie I searched and searched for a half-slip at major department stores. Has the provocative short black slip, slipped away? I was surprised to see the trending products become so popular over garments that have been so traditional over time. Sure, we can search most anything on the web today and find that ultimate item but it's never the same to touch and feel it 'real-time' at a department store and to try it on. To view garments on our figures and shapes via computer (digital-era), well perhaps we'll cover that story another time. Today we have the new contour, control top, shapewear, boy shorts, and alternative options taking over our intimate apparel shelves. An amazing marketplace. While I do wear tight, fashionable, stylish clothes, I prefer a simple loose flattering silky short half-slip to act as a smooth sheath under a flowy dress. Yes, I'm a girlie girl at heart.
I remember when control top panty-hose were really popular but they weren't for me – basically too restricting. But they were a hit and still are preferred by many women. There are many types of attractive intimates on the market these days. Women with any size shape or figure have solutions and choices in shapewear -- quite a popular top seller in recent years. I have to admit some of the shapewear I have tried has been conforming and makes me feel like I am slipping into a strait jacket. Do you feel that way? I can't try on a brand without breaking a nail let alone get it on over my hip, even if I step into it. I am not bragging that I really never needed to wear Spanx or similar brands (and I've tried on many) but what I found challenging is how to put on shapewear and how to breathe in these undergarments for an entire working day or evening. I prefer soft, comfortable, breathable compression fabrics that do not constrain or restrain my activities.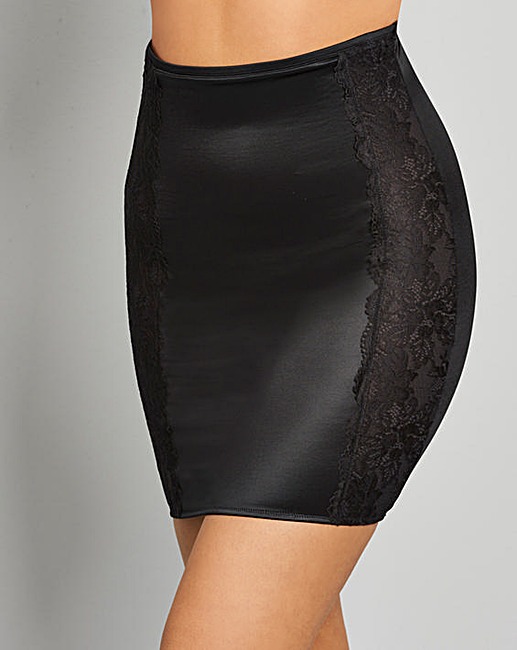 Manufacturers offer firm control, control top, seamless, tummy control, haute contour, shapewear, boy shorts, long shorts, shapewear with shorts, cami slips, body slips, and the intimate list goes on. All I wanted was one simple black, sexy chic short slip and well, I guess I will be sticking to the basic Calvin Klein tucked away in my dresser drawer. I didn't find the lace or other provocative options that day. My Calvin does the trick and I never travel without it. It's cling free and keeps me quite comfortable especially during these hazy crazy days of summer!
So fast forward and set aside your alternatives and say hello women, welcome back the mini half-slip for us gals who want to feel sexy and care-free all the time. That's what I say!
There are a variety of soft compression fabrics that are part of emerging textiles trending and not tight or conforming. CRISSCROSS Intimates uses soft, smooth compression European fabrics that are soft next to your body, ultimately providing support during post-surgical recoveries. Other fabrics offer advanced healing technologies too. As I prepare to exhibit and attend CURVENEWYORK @ Jacob K. Javits Hall 1B during August 6th, 7th, and 8th, don't be surprised if I 'slip' by to find that special chic half-slip! Don't forget to stop by to visit us at Booth #341. Ooh-la-la!
All the breast, Jean
For more information about Jean Criss or media inquiries, please contact us at info@jeancrissmedia.com and learn more here.