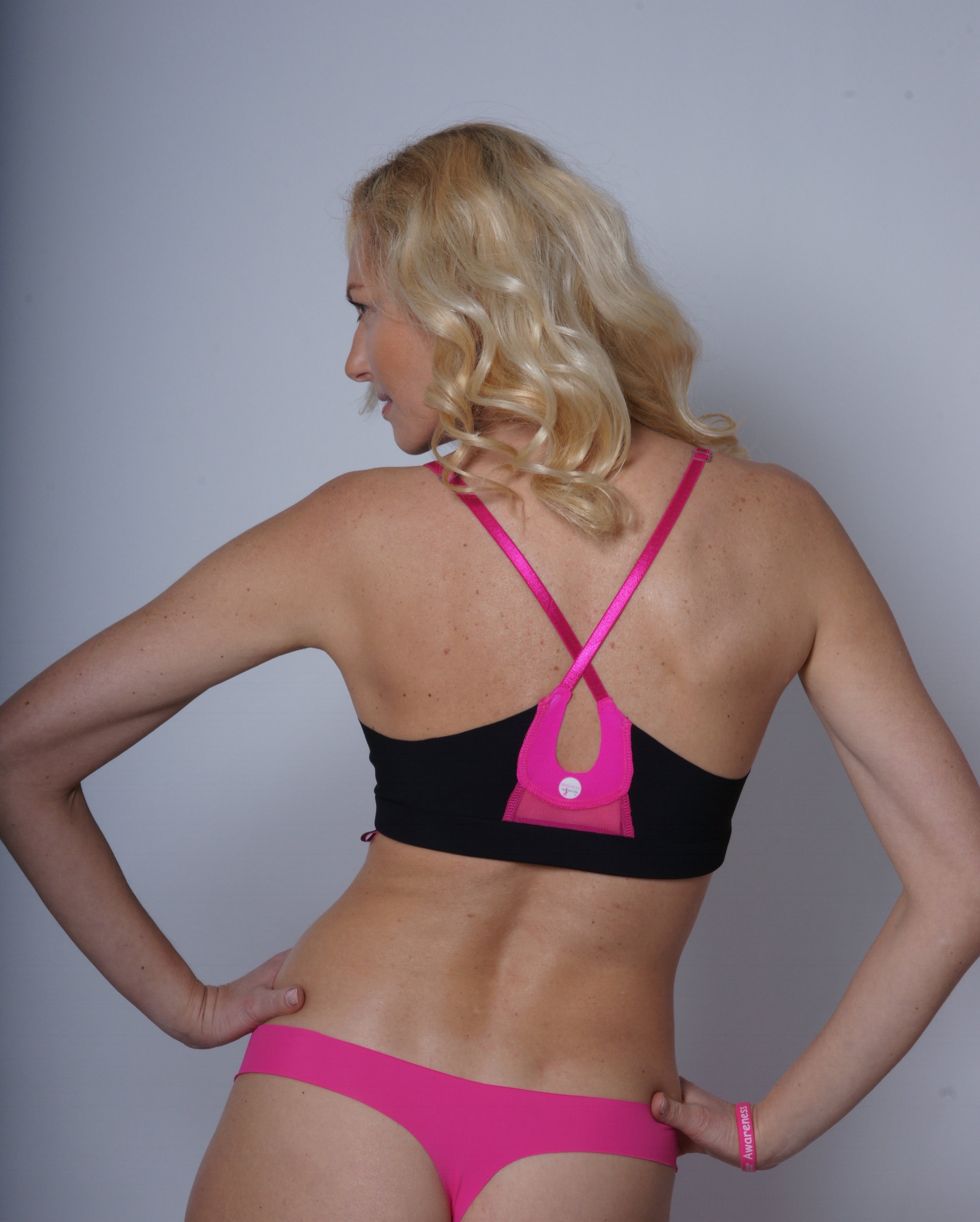 Feel Confident, Look Beautiful!
CRISSCROSS Intimates is your BREAST kept secret. 1 in 8 Women in the U.S. are diagnosed with Breast Cancer every day; 1 in 1000 men as well. I was one of those women in July 2007. Welcome to CRISSCROSS Intimates, created and made with love by a Survivor, for Survivors. Colorful ensembles of bras, panties, accessories and men's vests too. All our designs are patent approved to help survivors feel confident and look beautiful (or handsome) to recover in style, be comfortable and live a healthy lifestyle for SMART breast health and wellness. Innovated, designed and manufactured in New York City (U.S.A.) by Founder, Designer, Survivor, Jean Criss. Revolutionary!
Our state-of-the-art one-piece revolutionary designs marry function and form. Light weight, European fabrics, laser cut edges, CRISSCROSS front closures and racer-backs with adjustable shoulder straps. Highly functional post-op construction holds your drainage tubes conveniently and discretely for either single or bilateral breast surgeries or alternatively, use a CRISSCROSS Pouch worn inside your apparel (shirt or pants). CRISSCROSS has been granted USPTO utility and design patents that disclose over 20 different product designs, so we've got you covered for all stages during recovery and healing from Day 1 leaving the OR to Day 180+ and beyond. Revolutionary!
CRISSCROSS utilizes advances in new and emerging textile composition to maximize the healing process. SMART technology using magnets combined with reversible, double-bonded compression fabrics provide energy and healing sources. Magnets offer an energy source when placed close to the body during recovery and the convenient low-profile Velcro® offers an easy one-piece slip on post-op undergarment. Other textile features include extra-fine sculpting fabrics for comfort and easy care, sensitive fibers, dying techniques, anti-microbial, high UV protection, moisture wicking and the latest advances in ECO sustainability. our Prosthesis Bra is made with the following fabric liner for advanced healing;
The only thread that works with every thread of your being - Thermo-reactive minerals powered by the human element
Celliant®, a different kind of performance technology that lasts the lifetime of the material - it will never wash out or breakdown
Over 60% of the energy we consume is lost to escaping body heat
Celliant® puts your body heat back to work, turning energy that is normally wasted back into infrared light
Clinically tested infrared-optimized textile used in the industry and put thru nine clinical trials
One of the first revolutionary fabrics used in the Intimate Apparel industry
Celliant® (43% Celliant®, 41% Poly, 16% LYCRA®)
Our trending palette incorporates the theory of positivity, evoking the link between mental and physical health with the psychology of color. Fashion forward with CRISSCROSS to evoke good breast health and wellness using SMART textiles!
Having cancer is an intimate and very personal experience. I know how much it means to a Survivor to be able to resume a normal lifestyle quickly after treatment, becauseI am a Survivor who endured numerous post-op procedures. CRISSCROSS is dedicated to women and men who have experienced breast cancer and know how physically and emotionally demanding and challenging the recovery process can be. Fabrics were chosen for improved breast health and wellness. Advancements for healing to offer a positive state of mind and most importantly, an Intimate Experience for all Survivors. Feel Confident, Look Beautiful, inside and out! Our collection enables you to return to your professional and personal lifestyle feeling comfortable, confident and looking great.
Why CRISSCROSS is your Breast kept secret.
Like many women and men diagnosed and treated with breast cancer, I often received treatments the same day and immediately returned to work wearing ugly utilitarian undergarments that made me feel miserable, "less" of a woman, desperately trying to hide my undergarments. Each and every day I longed to feel "normal" and like myself again. My mission became to improve how women and men experience treatment, recovery and healing to sustain a positive healthy life post-op.
We're thrilled to announce our launch with 8 Bras and matching Panty ensembles, with well over a dozen choices of beautiful bold colors complemented with the CRISSCROSS pouch, leggings, scarves, and inspirational breast cancer resources. For female AND male survivors, our garments are technology advanced, comfortable and elegant. Many styles can even be worn during or after treatment as active wear. For men, we have options too -- Vests for your post-surgical needs. Over 150+ SKUs in all and we are just getting started with many other styles and designs to be introduced this year.
I personally invite you to visit and shop CRISSCROSS. If you have any questions about fit, style or would like to tell us what you think about the products, please feel free to reach out to us. We're hear for you. If you would like to carry the line, also contact us at info@crisscrossintimates.com.
All the breast! Jean